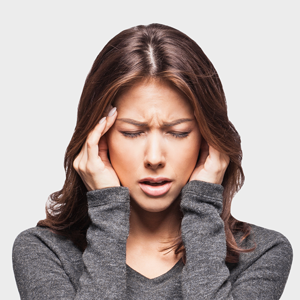 A large percentage of the population suffers from headaches, yet most never decide to seek medical or natural help.
At Dr. Lichter and Associates, our goal is for patients to live their best life, naturally. And while most associate chiropractic care with back pain, we've helped thousands of patients just like yourself seeking relief from headaches and migraines.
Dr. Lichter has more than three decades of experience, and he can't wait to help you get out of pain and into health!
Headache & Migraine Treatment
Did you know that headaches are common—but not normal? If you find yourself popping Advil or Tylenol on a weekly, or even daily basis, it's time to put the pain pills aside and opt for a natural approach—chiropractic care. At our practice, we believe that chiropractic is the best kept secret when it comes to combatting headaches and migraines.
Headaches and migraines are a symptom of a larger problem, and the solution often lies in restoring balance to your spine. Through crafting focused adjustments, our chiropractor will bring your spine into alignment, removing disturbances in your nervous system that can cause pain—most commonly in the form of headaches or migraines.
When you visit us, we'll get to know your health history and what you're dealing with before recommending a technique and care plan perfect for you. In addition to adjustments, we proudly offer acupuncture, massage therapy, physical therapy, and nutritional support to ensure your body gets exactly what it needs to function at its best.
Migraine Remedies for All Ages
When patients visit our practice seeking migraine relief, they're often pleasantly surprised when other symptoms they're experiencing clear up, too. It's not uncommon for chiropractic care to benefit the following:
Digestive problems
Stress and anxiety (which can also affect headache frequency)
Low back pain
Tense muscles or aching joints
And much more
We'd love to help you learn more about the benefits of chiropractic care and it could help you or a loved one. To get started today and make headaches a thing of the past, contact our practice to book your first visit. We'll dive deep to uncover the root cause of your issue and devise a care plan that's focused to your specific needs. If we feel you're better suited for a primary care doctor or neurologist, we'll happily refer you out so that you can get the care you need.
We can't wait to welcome you to our practice!

Headache & Migraine Relief in Tampa FL | Dr. Lichter and Associates | (813) 885-6001