Spinal Decompression Therapy in Tampa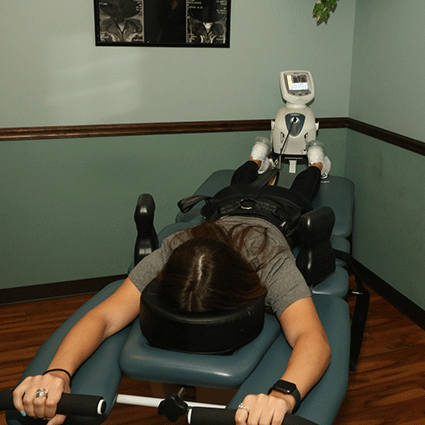 A Non-Surgical Option for Pain Relief
Spinal decompression therapy is FDA cleared and has a high success rate for pain associated with herniated or bulging discs even after failed surgery. It is a non-surgical, traction-based therapy for the relief of back and leg pain or neck and arm pain. During this procedure, by cycling through distraction and relaxation phases and by proper positioning, a spinal disc can be isolated and placed under negative pressure, causing a vacuum effect within it.
During spinal decompression therapy at
Dr. Lichter and Associates,
a negative pressure is created within the disc. Because of that negative pressure, disc material that has protruded or herniated can be pulled back within the normal confines of the disc, and permit healing to occur.
Who Can Spinal Decompression Help?
Anyone who has back pain or neck pain caused in whole or in part by a damaged disc may be helped by spinal decompression therapy. These conditions include degenerated, herniated, protruding or bulging discs, spinal
stenosis, sciatica or radiculopathy (pinched nerves), facet syndrome and some failed back surgery patients.
Get Started Today
We want to make it easy for you to learn if you are a candidate for spinal decompression therapy. Contact our office to schedule a consultation with our team.
Please remember to bring any MRI reports so the doctor can review them and best advise you about your treatment options.

Spinal Decompression Tampa FL | (813) 885-6001