Physical Therapy in Tampa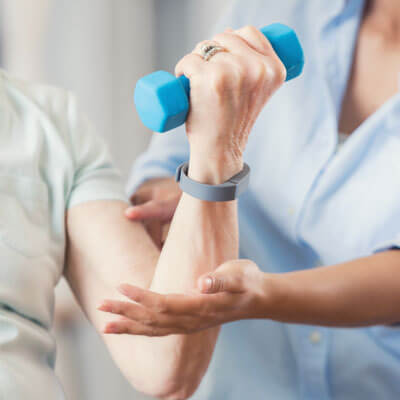 Reduced pain, improved function, and greater range of motion are some of the primary benefits of physical therapy. Approximately 80% of what takes place at Dr. Lichter and Associates falls under the description of physical therapy.
If your primary care doctor or your orthopedist refers you for physical therapy, usually you're going to go somewhere and the therapist will have you do supervised exercise designed to increase range of motion, strengthen certain weak muscles, or stretch tight muscles.
At our practice we offer multiple solutions under one roof to help your body heal. About 95% of all people receiving chiropractic care also get some form of physical therapy.
Getting to the Cause
Many people seek natural care, as they don't want to take prescription medication with side effects; instead, they want to address the cause. That's precisely what we do. Our job is to restore proper spinal function, strengthen muscles, and restore range of motion. We're addressing the cause of the problem without drugs and surgery whenever possible.
Unlike a primary care physician's office, we have on-site digital X-ray, massage therapists on staff, a physical therapy suite and acupuncture, spinal decompression and cold laser services. We are trained and equipped to handle your spine and joint problems.
We we will determine which of the following therapies will help address your issue:

Passive Therapies
Interferential Stimulation
Hot and cold packs
Traction
Ultrasound
Active Therapies
Active stretching
Resistance Bands
Exercise Rehabilitation
Our approach is to utilize chiropractic and non-invasive adjunctive therapies first, drugs second, injections third, and surgery last. That's always the approach. We recognize that most patients prefer to avoid medications and invasive injections or surgeries, but we also acknowledge that, sometimes, in difficult cases, combining the benefits of different specialists is necessary to get the patient the relief they are seeking.
What's the difference between chiropractors and physical therapists?

Physical therapists utilize the same passive and active therapies that chiropractors do but are not trained in spinal manipulation which we consider one of the keys to successfully treating back and neck problems. In some cases, physical therapists do things outside of our scope. For example, if someone is recovering from hip or knee replacement surgery and needs extensive one-on-one time with a therapist, a physical therapist is more appropriate for such a patient.
Do I have to be a chiropractic patient to receive physical therapy at your practice?

No. While most patients in our office receive chiropractic care, some visit us strictly for spinal decompression therapy, cold laser therapy, acupuncture or massage therapy.
Do most people receive multiple therapies?
Yes, most patients in our office are treated with 2-4 different modalities. Perhaps you're receiving chiropractic, massage, and exercise therapy, or chiropractic, massage, and electric stimulation for your muscles.
We have many treatment options to address each patient's issue, and allow the patient to choose a plan of care they feel comfortable with.
Do you partner with other medical providers?
Yes, we have excellent relationships with the medical community including local primary care doctors, orthopedic surgeons, neurologists and pain management doctors. Medical doctors often refer patients to our practice. Because of his evidence-based approach and his open-mindedness toward all specialties, Dr. Lichter and Associates has become the choice for many medical providers. Our practice has many patients who are nurses, nurse practitioners, nurse anesthetists, physician assistants, dental hygienists and medical doctors.
Dr. Lichter states, "A lot of people don't realize this, but I believe over the last 30 years, the impression and the opinion of chiropractic has actually gotten a lot better among the medical community."
Book an Appointment
If you have any questions or would like to get started, contact us today to schedule an appointment for physical therapy.

Physical Therapy Tampa FL | (813) 885-6001