Sciatica Treatment In Tampa
Welcome to Dr. Lichter and Associates
Sciatica is caused by compression on the sciatic nerve and the pain can be excruciating. The low back pain that radiates down the back of the leg can be debilitating.
At Dr. Lichter and Associates, we understand how discouraging it can be to complete even the simplest of daily tasks with this pain and we are here to alleviate your sciatica.
An Advanced Sciatica Treatment Approach
We have successfully treated thousands of sciatica patients through a combination of spinal decompression therapy, physical therapy, massage, acupuncture, and chiropractic adjustments. These are all natural treatments, no drugs or surgery required!
Call us at (813) 885-6001 now & let us help you out of pain today!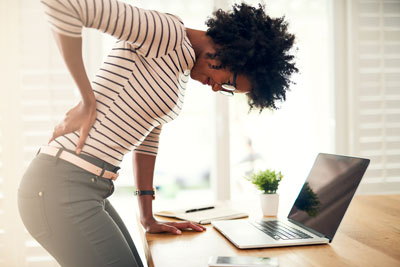 Affordable Sciatica Pain Relief For Busy Lives
We understand that you lead a busy life and when sciatica pain strikes, you need to see someone now. When you call us, we want to see you right away. We offer same day appointments, offer convenient hours and even have weekend hours by appointment.
We offer flexible and diverse payment options. We are also a provider for most major insurance plans and accept Medicare and Medicaid.
Give us a call at (813) 885-6001 or stop in at our custom-built state-of-the-art facility to meet our team and make us your partner in the battle against pain today!

CONTACT US »


Everyone is so nice and very upbeat. Very satisfied and would definitely recommend Dr. Lichter and Associates.

Everyone there is very nice and helpful. They are always so understanding. I will definitely recommend them to anyone!

All around amazing first time experience. Office and staff were beautiful and so fun and helpful! Got me in for a consult as a new patient super quick which was perfect as I was in quite a lot of pain.

For the first time I was able to sleep last night. Also my vision is clear after so many years of feeling cloudy and the headache is much better. Thank you Dr Lichter!

I was very pleased with my visit. The whole staff was very nice and helpful. Dr. Lichter also exceeded my expectations with his demeanor and knowledge. A great find!

I love the ladies at the front desk, they're very nice always smiling and attentive. The doctor is very friendly to talk and explain very well your problems so you have a knowledge of what is happening and how he would help you.

Excellent experience. I am recommending your office to my friends and family.

I am very pleased to be in the hands of a doctor who not only has passion for his field and desire to educate his patients, but who puts you at ease with the whole process of what one requires to help correct their chiropractic needs. I would recommend Dr. Lichter to my friends no question.

The staff is amazing, I'm very grateful for everybody!

The entire practice is amazing! I am a RN and have seen many practitioners over the years. This is the best group by far. I wished they could do primary care.

The place is very well located, the staff is helpful and friendly. The doctor was very detailed on the evaluation and very good at explaining the next steps on my treatment. I recommend this place!

Amazing doctor and staff – GREAT experience

I really enjoyed my visit today. Everyone was very helpful and presented a welcoming smile. That was good to see and experience.

I absolutely love you guys! I have already noticed a change and cannot wait to finally get rid of all these back issues! Thank you all for being so great! From the front desk to the office visits, no one can compare. Thank you!

The doc and staff are awesome. Love this place.

Extremely nice staff! Very personable and comforting.

I love everyone at Dr. Lichter's office. Friendly, helpful and knowledgeable.

Office is very friendly. Doctor explained everything and answered my questions. Feeling better with just a few appointments.

Very pleased with the caring attitude of Dr. Lichter as well as his staff.

Great staff and amazing doctor.

Everyone is absolutely wonderful! They all are super friendly and truly care about their patients!

My experience with Dr. Alexander and entire office staff was exceptional.

I am confident that I will get the help I need from Dr. Lichter.

I am impressed with both the staff & the doctor. I was referred by Dr. Augustine & I can see why! You all are friendly, kind, helpful, and incredibly knowledgeable.

Dr Banks was incredible. Super knowledgeable and took the time to explain everything. Very optimistic about being able to help me. The entire staff is friendly and helpful. Looking forward to continued visits until the issue is resolved.

Already feel so much better. It's amazing!

The staff is really hands-on from the front desk to the attending nurse. Very professional and courteous, makes you feel welcome. Dr. Alexander is exceptional in the way he explains the conditions and treatment.

More from Rick…»

I am quite sure I picked the right Chiropractor and hopefully, soon my back pain will be a thing of the past. Like I told Christine when I was checking out after my first visit. I don't know why I didn't do this earlier. Good job all around.

I've only gone for two visits and I'm already feeling way better.

I was very impressed with the entire staff and Dr. Lichter also. Everyone listened to the problems I am having and started helping right away. I am looking forward to working with Dr. Lichter on the path to feeling better. Can't wait to be 100% again! THANK YOU!

Fantastic! Thank you so much!!

The staff and doctors in this office makes you want to keep coming back. Amazing people very friendly. Overall great experience.

I've had a wonderful experience with Dr. Lichter's office. Everyone is very thorough and extremely welcoming. I have been seen by many chiropractors over the years in several states, and this has been by far the best.

Very relaxed and professional environment.

Just an all-around great team. Everyone is super friendly and helpful.

The visit was welcoming and Dr. Lichter was thorough in explaining what my expectations would be with treatment. Overall a great experience.

Entire staff very receptive.

Great people to work with and I always get better!

I love coming to see you guys! I felt so much better within the first 24 hours after being seen, and I got such a thorough explanation of what was going on with me from Dr.

More from Maya…»

Lichter and later from Dr. Alexander, too. I've felt like I was in good hands since my first visit, and it feels like everyone in the office cares about you. Everyone there is awesome, thanks so much for helping me!

Went in with terrible pain in my neck shooting down my back, and after one visit I felt like a new woman. They're always friendly and can get me in.

Excellent staff and wonderful doctors!

So glad to be back with Dr. Lichter! He and his staff educates and provides a very caring environment as you establish a lifestyle of improved health and well-being. I highly recommend Dr. Lichter and I drive over 1 1/2 – 2 hours to feel comfortable in knowing he will provide me with the BEST healthcare possible.

I was seen on the same day I called in to schedule an appointment, the staff is knowledgeable and nice. I had a great first time experience and look forward to future appointments.

Very impressed. Dr. Lichter and his staff are honest and authentic. Spent a lot of time with me and explained everything carefully. Thank you!

Very friendly and knowledgeable staff.

I love the doctor and staff. They make you feel comfortable and welcomed starting with setting up your very first appointment and on. I recommend them to everyone I know.

Don't Let Sciatica Pain Keep You From Life.
Call Us Today! (813) 885-6001

Gentle Sciatica Chiropractors Serving Tampa And Surrounding Areas